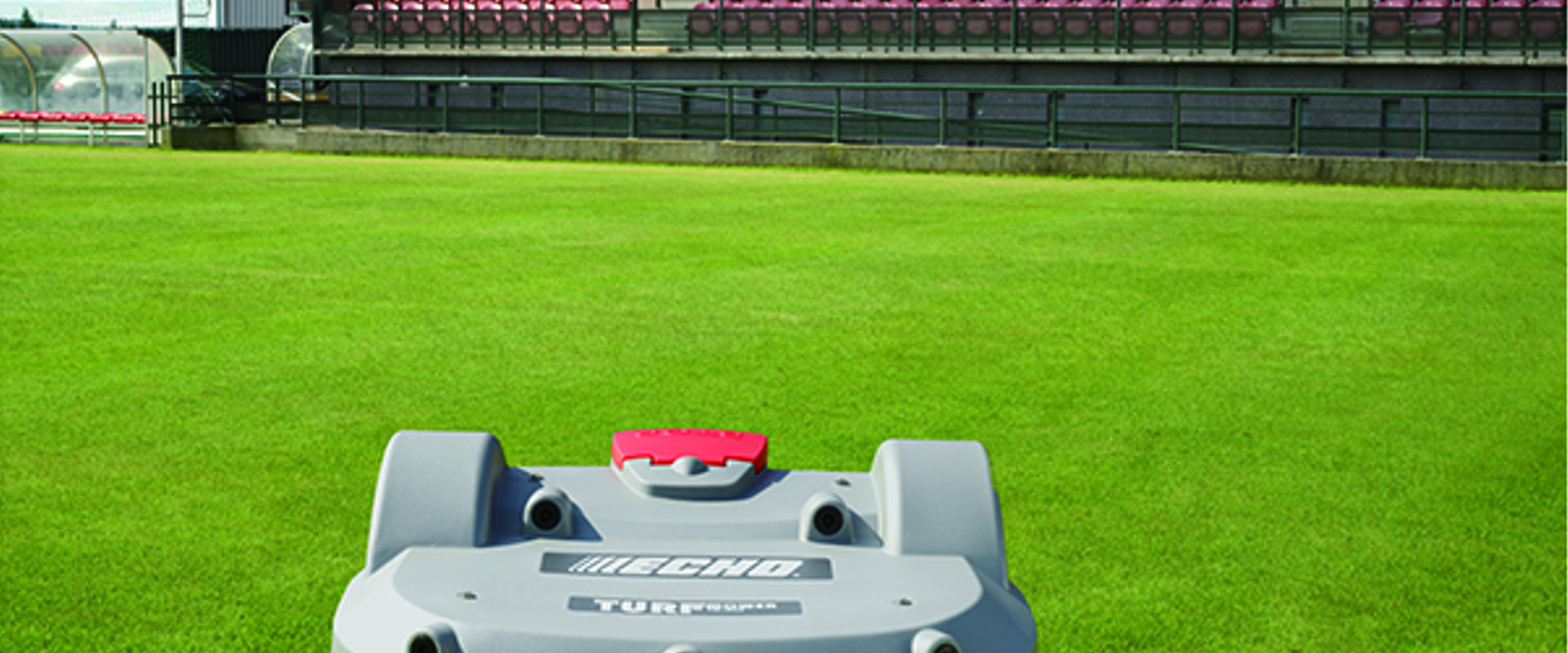 1 iunie 2018
ECHO wins Sports Turf Managers Association's "Innovative Award"
(LAWRENCE, Kan.) – Sports Turf Managers Association (STMA) – the organization for 2,700 men and women professionals overseeing sports fields worldwide and critical to athlete safety – names ECHO Robotics its "Innovative Award" winner for their Autonomous Mower TM-2000.
The self-driving, self-charging, self-sufficient unit mows up to five acres of turf efficiently and quietly while finely mulching clippings to promote turf health. Saving time and labor for facility managers, it can be remotely commanded while monitoring performance via a web platform and mobile app. According to independent studies, its energy costs are eight times lower than traditional mowers. Boasting a 2:1 mowing to recharging ratio, it can mow approximately 16 hours a day (rain or shine) and can be scheduled to operate around field usage and watering cycles.
"As sports turf managers are tasked with more duties and greater responsibility, time becomes their most precious commodity," says Kim Heck, CAE, CEO of STMA. "The TM-2000 allows sports turf managers to save time, money and resources."
The "Innovative Awards Program" recognizes STMA commercial company members who've developed a product, service, equipment or technology that substantially enhances the efficiency and effectiveness of the sports turf manager and / or makes the playing surfaces safer and / or more playable for athletes. Chosen by STMA's Innovative Awards Task Group, entries are evaluated on a wide range of qualities including whether or not they fill a need; are creative; save time and resources; are cutting-edge; make a task easier or more productive; improve quality; protect the environment and improve efficiency.
For more than 40 years, ECHO Incorporated has been a worldwide leader in the development and manufacture of professional-grade, hand-held outdoor power equipment. The TM-2000 is one example of a long line of breakthrough technologies introduced by ECHO. Their latest achievement is the world's most powerful backpack blower, the PB-8010. The product's high performance is complemented by its reduced weight, a result of the first implementation of carbon fiber components.
"At ECHO, we pride ourselves on creating revolutionary high-performance products," says Joe Fahey, Vice President of ECHO Robotics. "Thank you to the Sports Turf Managers Association for this prestigious award, we're honored to play a part in enhancing the sports turf industry."
First presented in 2011, recent "Innovative Award" winners include Royse Green Industries (2016), New Ground Technology (2017) and The Perfect Mound (2018).
To learn more about ECHO Incorporated, please visit https://www.echo-usa.com/ To learn more about ECHO Robotics, visit their website at http://echorobotics.com/